Huge rise in spending on independent ambulances in Northern Ireland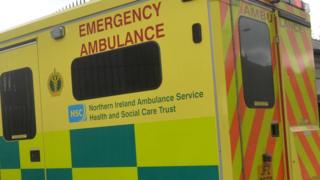 Department of Health spending on voluntary and independent ambulance services in NI has increased sharply.
Over the last five years, it has gone up from about £3,000 to nearly £1m.
It follows an admission by the Northern Ireland Ambulance Service (NIAS) that it does not have enough staff to provide full weekend cover and relies on support from other organisations.
In 2011/12, the NIAS spent £3,040 on independent and voluntary sector ambulance services.
By 2013/14 that had increased to £55,826 and, in the last financial year 2015/16, the spending was £967,230.
That equates to about just 1.4% of NIAS expenditure, but unions are concerned.
Patricia McKeown from Unison said the NIAS should be investing in its staff, rather than spending money on the private sector.
"They are looking for quick, sticking plaster solutions from the private sector," she said.
"Increasingly we are watching people drift away from the service because of their deep frustration, because of the stress levels, because it is not possible to cover any more, because people are working ridiculous shifts and all of that is happening because money which is going to the private and voluntary sector is not being invested directly in the ambulance service."
The NIAS has said the increase in expenditure is as a result of funding being made available "to invest in systems and processes to improve patient flow across [the health care system]. The quickest way to achieve this in the short term is by making use of the voluntary and private services."
Staffing issues
But the ambulance service also has big staffing issues at present.
Over the last two years it has sometimes struggled to provide the required number of crews. This is a particular problem on Saturdays.
Current staffing problems include the need to recruit new staff and the fact that approximately 10% of the workforce is off sick.
In the last financial year, the ambulance service undertook 349,793 patient journeys.
Voluntary and independent services undertook 8,953 of these (2.5%). The vast majority of these calls were non-emergency such as routine hospital transfers or transport from GPs to hospitals etc.
'No difference'
One independent provider of ambulances is Proparamedics which is based in Belfast. Its CEO, Heather Hamill, said using the private sector allowed the ambulance service to manage peaks in demand more effectively.
"The way I see it is NIAS have actually been proactive in ensuring that the people of Northern Ireland get an ambulance service that they deserve and by using the independent sector and Proparamedics, they actually show they are looking after the people of Northern Ireland. So people should not be concerned," she said
"We would hope that people don't experience any differences in the level of care that they have when Proparamedics arrive at their door in place of NIAS. The only differences they would see is a green shirt instead of a blue shirt, but in relation to ambulances, kit, equipment and particularly in care - they should not experience any difference."
The Northern Ireland Ambulance Service said it prioritises calls to ensure that the most critically ill patients receive the fastest and most appropriate response.
"In order to enable NIAS crews to manage life-threatening and serious calls, the Voluntary and Private ambulance services may be tasked to deal with those calls which do not require Paramedic intervention," it said.
"There will also be occasions when a NIAS Rapid Response Paramedic will attend a call and the voluntary or private services will be despatched, following Paramedic assessment and/or treatment, to provide transport to hospital."
A Department of Health spokesperson said: "The Ambulance Service has explained the circumstances in which independent sector ambulances are used and the costs to the service.
"All HSC Trusts, including NIAS, use the services of independent ambulance services for the transport of non-urgent patients when such transport is not available from NIAS. This can typically be for transfers between hospitals or discharge to a nursing/residential care or the patient's home.
"NIAS uses the services of independent ambulance services to assist at times of particular pressure."