Bus drivers refuse west Belfast service after petrol bomb attack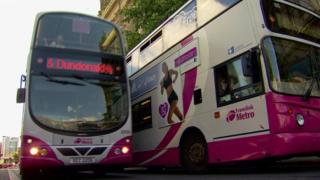 Bus drivers in Belfast have said they will not serve an area in the west of the city after a petrol bomb attack on one of their colleagues.
A bus was travelling through Lagmore View at about 22:20 BST on Saturday when it was hit with a petrol bomb.
The trade union Unite said the attack "put at risk the life of the driver and passengers on board".
Unite representative Michael Dornan said drivers "are not prepared to return to the area".
Sinister
Public transport provider Translink confirmed that the bus service service to Lagmore View has been suspended.
Mr Dornan said attacks on buses were "all too common" but Saturday's incident was "particularly sinister".
"From our review of the CCTV capture of this incident this morning, it appears the attack was premeditated and we believe may have targeted the driver concerned," he said.
"We apologise for the inconvenience [the suspension of the service] will cause the community in that area but we have to prioritise safety at this time."
Police said they received a report that a petrol bomb and stone had been thrown at a bus in Lagmore View on Saturday evening.
They appealed for anyone with information to contact them.