SOS: Brexit 'not cause of investment visit postponement'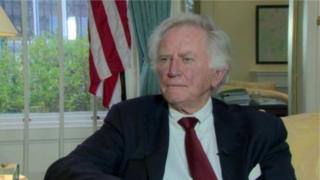 The Secretary of State has denied Brexit was the main reason for the postponement of a US State Department investment visit to Northern Ireland.
The Deputy First Minister Martin McGuinness has said the move was due of the UK's decision to leave the EU.
But Theresa Villiers said that the US Special Envoy Gary Hart had blamed the decision of the trip's leading figure leaving the US government.
She said the visit would now go ahead next year.
'Low-key'
The "low-key" event had been organised for Belfast and Londonderry in October.
Sources say the conference would have involved between 20 to 25 people, including potential investors.
Before last month's referendum President Barack Obama warned that the UK would go to the "back of the queue" for trade deals with the US if it voted to leave the European Union.