Theresa Villiers sees no case for All-Ireland forum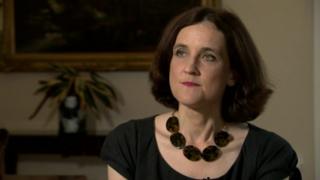 The Secretary of State, Theresa Villiers, says she sees no reason to have an All-Ireland Forum to look at the issue of Brexit.
The idea was proposed by the Taoiseach (Irish prime minister) Enda Kenny.
However it appeared to have been dropped this week after the DUP gave it a cool response.
Ms Villiers said co-operation between the Irish and British Governments alongside the Executive was vital.
Corporation Tax
She added the current North South Bodies were working well, advising "I haven't seen a case for a fresh body to be added to the current structures".
She has also denied the Chancellor of the Exchequer's announcement that he was going to cut Corporation Tax across the UK to below 15 per cent was a blow to Northern Ireland,
She described it as a "big plus" and a "tremendous opportunity".
"It makes 12.5% for Northern Ireland more affordable for the Executive to deliver," she added.