Twelfth of July: Police Federation calls for 'spirit of Euro 2016'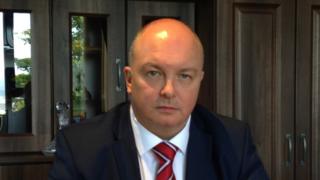 The Police Federation for Northern Ireland (PFNI) has appealed for "a re-run of the 'spirit of Euro 2016" over the 12 July period.
Mark Lindsay, the PFNI's chairman, praised Northern Ireland and Republic of Ireland football fans for their behaviour during the competition.
He has called for a similar spirit to be shown towards police officers during the Twelfth celebrations next week.
"Our fans were first-class 'ambassadors' in France," he said.
"They showed that people could enjoy themselves without resorting to offensive or bad behaviour on the streets.
Duties
"If we had a re-run next week of the spirit of Euro 2016, then society generally will be the big winner."
Police officers represented by the federation "want nothing more than a trouble-free Twelfth", Mr Lindsay said.
"We don't want to see officers hurt in the execution of their duties," he added.
"Neither they nor the wider community, of which they too are a part, wants unrest and disorder.
"Euro 2016 demonstrated that it can be done, and done well."