Foyleside shopping centre: 'Mystery man' throws banknotes to shoppers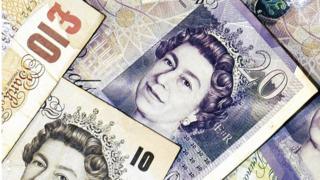 A "mystery man" has thrown banknotes to members of the public in a Londonderry shopping centre, according to a police report.
The cash giveaway took place in Foyleside shopping centre on Tuesday.
The Derry Journal newspaper reported that he "threw a mixture of £10 and £20 notes from the first floor on to shoppers below".
A police spokeswoman said all the cash they examined was genuine. She added that no crime had been committed.
The identity of the man and his motives remain unclear at this stage.
Foyleside Shopping Centre said it had no staff available for comment.