Iraq Inquiry: 'Seeds for bloody anarchy sown' by Iraq invasion, says former police advisor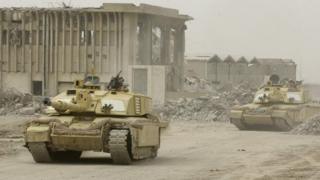 "Seeds for a bloody anarchy" that still exists today were sown by the 2003 invasion of Iraq, a former senior police officer in charge or law and order in the country has said.
A report on the war has concluded that there were "wholly inadequate" plans for the aftermath of the invasion.
Stephen White, a police advisor in Iraq in 2003, said there was "an absence of visible leadership" during the war.
The former Northern Ireland policeman added: "It was a demoralising time."
The war ended Saddam Hussein's regime in Iraq, but the aftermath unleashed violence that has killed thousands.
Strife
Mr White, who was an assistant chief constable in the Police Service of Northern Ireland before his move to Iraq, said law and order was not maintained in the country.
"Based on my years and years of Northern Ireland experience, when an occupying force, which we were, does not maintain law and order, then gangs and organised crime start to flourish and then sectarian militias start to take over," he said.
"That leads to inter-community strife, which then leads to very extreme organisations taking place.
"The seeds were being sown for a bloody anarchy, which is still in that region, in Iraq and the neighbouring countries."
Inconvenient
Mr White gave evidence to Sir John Chilcot's Iraq Inquiry in 2010, saying he felt isolated and unsupported for much of his time in the country.
"One of the things [Sir John] talks about is the importance of listening to those on the ground," he said on Thursday, the day after the release of the long-awaited report.
"I felt that anything I was saying in terms of needing more resources, things done more quickly, some leadership - all those things were seen as inconvenient truths.
"There was no one person in charge, and Sir John points out there was no single cabinet minister who took responsibility.
"In my evidence I made it very clear that I felt there was an absence of visible leadership."
Desires
He said he was "fed misinformation" in terms of the resources he would be provided with as director of law and order for southern Iraq between July 2003 and January 2004.
He said he had applied for the role of leading a police task force in the country with a team of 1,500 officers but was ultimately only provided with a team of 15.
"There were lots of political and operational desires, but in terms of reality and delivery there was very little," he said.
"I left extremely frustrated, but having said that I achieved something.
"I opened up the first police training academy and I left behind a good briefing for those who followed me."