Minister says water meters will not be installed in new homes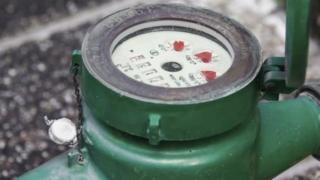 The Infrastructure Minister Chris Hazzard has announced that no more water meters will be installed in new homes.
Mr Hazzard described the practice as "a waste of public money".
The meters have been placed in newly built houses since 2007, although they have never been used as domestic properties do not pay separately for water in Northern Ireland.
The assembly will have to approve the decision to stop installing the meters.
Speaking about the issue on Wednesday, Mr Hazzard said: "In the current financial climate, the continued waste of public money to install meters which will not be used cannot continue.
"Regulations are currently being drafted and consultation on these is legally required. Meanwhile, I have instructed NI Water to cease this work immediately."
When devolution was restored in 2007, the executive parties put a halt to a process which would have resulted in voters being billed for water, arguing they already paid for it through rates.
But, nevertheless, in accordance with the legislation, meters were still installed at all new properties connected to the public water supply.
In the past, staff at Northern Ireland Water have experienced intimidation from communities opposed to water charges.