Students at NI universities owe £2.7bn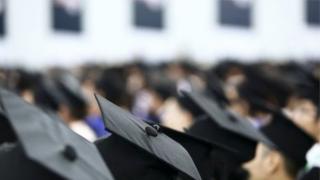 Students who have studied at Northern Ireland's universities owe £2.7bn in tuition fee and maintenance loan debt.
The 2015/16 total, calculated by the Student Loans Company (SLC), shows an 11% rise from the 2014/15 figure of £2.5bn.
Students who had to start repaying their loans this year owe almost £19,270 on average.
That represents a rise of just over £1,500 compared to those who started repaying in 2015.
Only 24,000 out of 210,000 students who have taken loans in Northern Ireland have repaid them all.
The figures on loans for higher education in Northern Ireland in 2015/16 have recently been released by the SLC, which is government owned.
In that financial year, students in Northern Ireland borrowed just over £183m in tuition fees and just over £133m in maintenance loans.
Students can borrow the cost of their yearly university tuition fees, which is set at £3,925 in Northern Ireland in 2016/17.
They can also take out a maintenance loan for living costs, which is capped at £3,750 if they live with their parents, and £4,840 if they live away from home.
These loans begin to be paid back when the student enters employment and earns more than £17,495 per year.
The more a graduate earns, the bigger the proportion of their loan they repay.
Loan debt is written off if the student has not repaid within 25 years of ending their university course.
Students studying in Northern Ireland, however, still owe less when leaving university than students who study at English universities.
A student at an English university who had to start repaying their loan in 2016 owed £24,640 on average.
However, that figure is expected to rise sharply in future years as the £9,000 tuition fees students in England pay takes effect.
NUS-USI President Fergal McFerran said he was "troubled" by the figures.
"To think that students who had to start paying back their loans this year owe an average of almost £20,000 is shocking," said Mr McFerran.
"The fact that it's increased by over £1,500 in just one year is even more disgraceful.
"It is essential that action on this issue is included in the new programme for government. There simply must be no further increase in the average debt faced by students."
The vast majority of students referred to in the SLC's figures are Northern Irish students studying at universities in Northern Ireland, although EU students studying in Northern Ireland are also included.