NI's politicians raise concerns on Chilcot findings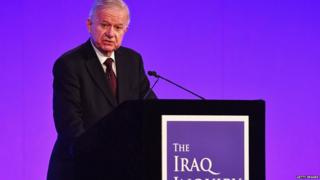 Northern Ireland's politicians have been giving their reactions to the Chilcot report.
DUP MP Sammy Wilson said a lack of forward planning was responsible for many of the "terrible events" in Iraq.
"Hopefully lessons have been learned," he added.
Deputy First Minister Martin McGuinness said it confirmed Sinn Féin's view that the war "was wrong, was not justified, and should have never occurred".
"The role of the British intelligence services in the lead-up to the war will come as no surprise to nationalists and republicans," he said
Speaking in the House of Commons, SDLP MP Mark Durkan said there was a danger that the report would be turned into "a greywash".
Referring to a comment made by former Prime Minister Tony Blair at the time of the Good Friday Agreement, Mr Durkan asked: "Does the prime minister not agree that the 'hand of history' should be feeling somebody's collar?"
David Cameron replied that he thought "there's a huge amount to learn and I think everyone who has played a part in it has to take their responsibility for it".
UUP MLA Steve Aiken was a Royal Navy officer serving in the Gulf at the time of the invasion of Iraq.
He said the actions of Tony Blair and his "sofa cabinet" led to the "tragic situation of our brave servicemen and women being placed in harm's way without access to some of the most basic equipment to defend themselves or complete the mission".
Alliance leader David Ford said Tony Blair should apologise to the country.
'Blood on his hands'
"Despite other achievements such as the Good Friday Agreement, the Iraq war, its lead-up and fallout will define Tony Blair's time in office," he said.
In a statement, Green Party leader Steven Agnew said that "Tony Blair has the blood of thousands on his hands, and he must be held accountable for a war which I believe was illegal".