Education Authority's handling of nursery provision for disabled children 'a disaster', MLAs told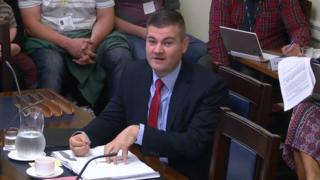 The Education Authority's (EA) handling of nursery provision for disabled children has been called an "unmitigated disaster".
The comment was made by SDLP MLA Colin McGrath.
It was during a hearing by Stormont's education committee.
Officials from the authority were giving further evidence to the committee about nursery provision in special schools.
Plans by the EA to reduce the hours many pre-school children spent in special schools were criticised by former education minister John O'Dowd as flawed.
He ordered a review of the decision, and MLAs on the education committee have held a number of subsequent hearings about the EA's plans.
The latest took place on Wednesday.
The authority's chief executive Gavin Boyd rejected Mr McGrath's analysis but admitted that the EA had "got it wrong" on a number of occasions.
"But we are doing our very best in what are very trying circumstances," he said.
A number of other MLAs on the committee were also critical of the authority's plans and how it had consulted with special school principals and parents about them.
The committee's vice-chair, Alliance MLA Chris Lyttle, accused the authority of a "what do we do now" approach.
"That has caused real anger, real anxiety, real fear in the public," he said.
Dr Clare Mangan from the EA also told the committee that no children would be admitted to Fleming Fulton special school's nursery in September 2016.
That decision was questioned a number of times by committee members who said that parents had contacted them wanting to send their children there this year.
Sinn Féin MLA Catherine Seeley said the authority was not meeting the needs of children or parents.
"Parents' choice is being ignored," she said.
"If parents want to send their children to Fleming Fulton and there's a nursery open with space in it and a member of staff fully trained and ready to go I really cannot understand and I really cannot comprehend why we're not availing of that."
Parents of children with special needs and special school governors packed the public gallery during the committee hearing.
In conclusion, committee members agreed to write to the EA asking them to reconsider their plan to temporarily cut the hours pupils spend in a number of special school nurseries in September 2016.