Coleraine shooting: Bullet holes found in glass panel of front door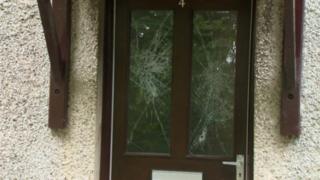 There has been a shooting at a house in Coleraine, County Londonderry.
Police said loud bangs were reported outside the property at about 00:20 BST in the Elms Park area.
A number of bullet holes were later found in the glass panel of the front door.
There were no reports of any injuries to the man and woman who were in the house at the time of the shooting.