Flights in and out of Dublin and Cork cancelled due to French strike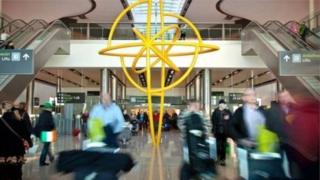 A number of flights to and from Dublin have been cancelled due to French air traffic controllers holding a strike.
It is the 13th public services strike in France in 14 weeks.
Passengers due to travel today have been urged to check the status of their flight online at Dublin Airport, or Belfast International Airport.
Ten flights into and out of Dublin and Cork. are among the dozens of flights Ryanair has cancelled and Aer Lingus has cancelled eight flights to and from Dublin.
Aer Lingus are also warning of "delays to flights which are required to use French airspace".
Ryanair added: "Unfortunately, further flight delays and cancellations are likely and customers are asked to please monitor this notice which will be updated throughout the day.
Belfast
A spokesperson for Belfast International Airport said they have received no official notice of flight cancellations on Tuesday.
However in a statement issued on Monday night, easyJet, which operates from the airport, said: "As 65% of easyJet's flights fly over France, this will have an impact on our flights to and from French airports, as well as those flying over French airspace.
"Just like other airlines we are subject to French air traffic regulations, we therefore expect delays and cancellations tomorrow."