11th night: Playpark in east Belfast to be moved to facilitate bonfire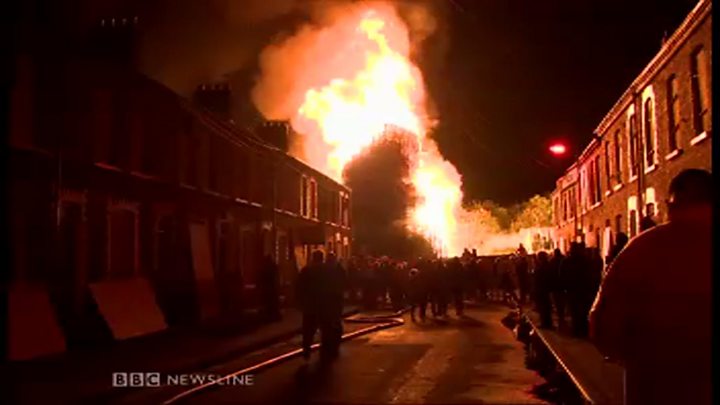 A playpark in east Belfast is to be moved in order to facilitate a bonfire.
Materials have been spotted near to the Chobham street site, where last year 50 families were forced to leave their homes.
As part of community development in the area, a new playground was erected where the bonfire previously stood.
But plans are in place to remove play apparatus, including swings and climbing frames, from the park to protect it from heat.
Last year, the bonfire, which was built on council-owned land, collapsed after it was set on fire on the 11th night.
Ulster Unionist Councillor Jim Rodgers said: "We're really concerned. We were assured after last year's bonfire that there would not be a bonfire again on that site and that's not the case.
"If you cast your mind back nearly twelve months ago, we had houses blocked up, we had people leaving - you can't live in a society like that.
"We are simply saying to those involved in the bonfire is, we want to work with you and consult with you, but at the end of the day if there's going to be a danger to life and property you've got to say it's going to be scaled down. Otherwise the council will have to take action."
Controversy was also sparked when effigies of the Virgin Mary - an icon associated with the Catholic faith - were burned on the structure.
Thomas McConaghie, an elder in the Village Church, told the BBC: "We don't feel like it's a sustainable way forward to remove any of the facilities of the playground.
"We feel a sustainable and healthy way forward considers all points of view that there would be a compromise on both sides.
"Perhaps a smaller bonfire would be more suitable. Something that is symbolic and deeply important for people who want to celebrate their culture in that way, but that a compromise could be made not to build something too high that damages public or private property."
In total, six fire appliances and 35 firefighters were required at the site last July while the bonfire was lit.