Battle of the Somme: Belfast hosts centenary service at St Anne's Cathedral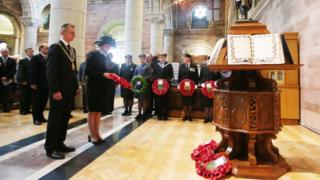 Almost 1,000 people have attended a commemoration in Belfast to mark the centenary of the Battle of the Somme.
The service at St Anne's Cathedral took place on Sunday and was led by Dean John Mann, who said the battle had been "an appalling human catastrophe".
Among those at the service were First Minister Arlene Foster, members of the armed forces and military veterans.
Thousands of Irishmen died at the Somme fighting in the Army's 36th (Ulster) Division and 16th (Irish) Division.
The 100th anniversary of the start of the World War One battle was marked on Friday with commemorations in Northern Ireland, other parts of the UK and in France.
Sunday's service in Belfast reflected on those across Ireland who lost their lives at the Somme, the impact on their families, and on those who survived the battle.
The stories of 15 pairs of brothers who died on the battle's opening day were told, as well as those who were awarded the Victoria Cross.
Dean Mann said he hoped people heard "the human story" in his sermon.
"With so many lives lost and so many injured, we are trying to assess [the battle] in the context of where we are today in the world, how we deal with conflict and how we work for peace," he said.
Sir Jeffrey Donaldson said the service was the "culmination" of the week's events to mark the battle's 100th anniversary.
He added that it brought "together our remembrance of the men who went over the top with the 36th (Ulster) Division".
"But we also remember the men of the 16th (Irish) Division who went over the top a little later in the battle and lost as many men," he said.
"We think of all of them and their sacrifice in this service."