Maze Long Kesh site: Board members' pay to be reviewed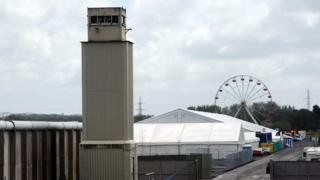 Stormont's Executive Office is reviewing the pay of board members on the body running the former Maze prison site near Lisburn in County Antrim.
It has emerged they continue to receive full remuneration, despite a 30% cut in the number of board meetings they hold.
The redevelopment of the entire site has been stalled for three years.
In 2013, the then first minister Peter Robinson blocked a plan to build a peace centre on the site where paramilitary prisoners used to be held.
Board minutes released to the BBC note its "frustration at the lack of progress" since then.
The number of board meetings has dropped from 10 a year to seven.
Cutbacks
Terrence Brannigan, the chairman of the Maze Long Kesh Development Corporation, is paid a £30,000 salary.
Last year, he received a further £4,000 in expenses, including mileage claims.
His nine-person board is paid about £50,000 between them, and claimed just over £700 in expenses last year.
But there have been cutbacks.
The acting chief executive of the corporation has taken a £20,000 salary drop and gone to a four-day week.
Kyle Alexander is currently paid £83,000 a year, according to figures released to the BBC.
Staffing levels have also dropped from 14 to eight in order to make other savings.
Political impasse
In a statement, the Executive Office said: "The board continues to contribute to the running of the organisation and the site and their input is not limited to attendance at board meetings.
"Numbers of meetings may vary for a range of reasons.
"The Executive Office continues to keep the operation and remuneration of the board under consideration."
Although the Royal Ulster Agriculture Society has moved to the Maze, wider development of the 347-acre site has been hit by the political impasse over the peace centre.
Recently, First Minister Arlene Foster said attempts will be made to resolve the issue, but she is against the peace centre idea.