Orange Order: Tanvally and Corbet halls targeted in paint and graffiti attacks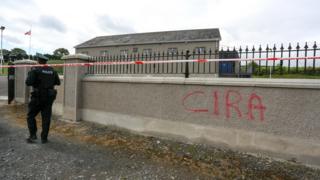 Two Orange halls in County Down have been targeted in overnight attacks.
Graffiti was daubed and paint was thrown over walls at Tanvally and Corbet halls near Banbridge during the early hours of Friday morning. The halls are about five miles apart.
The incidents follow an attempted arson attack at Muckery Orange Hall in County Armagh last weekend.
The Orange Order said 12 of their halls have been targeted so far this year.
A spokesman for the order said the attacks were "clearly coordinated and deliberate criminal acts" that did not reflect the "excellent community relations" in the areas.
"The mindless morons responsible for such callous sectarianism ought to be ashamed of their actions and must be held accountable," the spokesman added.
"This double attack is particularly sickening coming on the centenary of the Battle of the Somme.
"Such cowardly crime is in stark contrast to the gallant bravery shown by those who paid the supreme sacrifice 100 years ago."