Belfast: Teenager jailed for causing death of best friend Conal Daly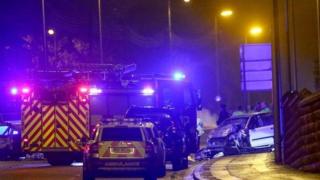 A teenager from west Belfast has been jailed for killing his best friend and seriously injuring a nun while driving at speeds of up to 100mph.
The 17-year-old admitted causing the death of Conal Daly and grievous bodily injury by dangerous driving to Sister Josephine McAteer in October 2014.
The car he was driving crashed into one driven by the nun on the Saintfield Road in Carryduff, County Down.
On Thursday, a judge described the teenager's driving as "appalling".
He said it had "seriously affected the next of kin of the deceased".
Suffered
Mr Daly, who was also from west Belfast, was a back seat passenger in the Jaguar car driven by the teenager, who cannot be named for legal reasons.
Donwpatrick Crown Court heard that Sister McAteer suffered two broken legs in the crash and can only walk short distances with the use of sticks, but she "harboured no anger or bitterness'' towards the juvenile.
The teenager also admitted charges of dangerous driving, two counts of assault on police and causing criminal damage to a police vehicle.
He had suffered a "significant brain injury" in the collision, the court heard.
A defence lawyer asked the judge to consider the injury as part of the plea of mitigation along with his early guilty plea to the charges.
Imposed
He added that the defendant had expressed "significant and genuine remorse in this case".
The judge sentenced the teenager to six years for causing Mr Daly's death and six years for causing Sister McAteer's injuries.
He also imposed a three-year term for dangerous driving, two six-month terms for assaulting police and causing criminal damage to a police vehicle, and a seven-year driving ban.
The judge said: "The global determinate sentence is one of six years.
"He will spend three years in custody and three years on licence."