Euro 2016: NI fans to get Paris city honour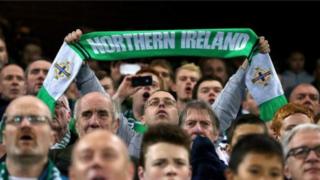 Northern Ireland fans are to be awarded a prestigious Parisian honour for their sportsmanship during the Euro 2016 games in France.
They will join fans from the Republic of Ireland in receiving the Medal of the City of Paris.
The city's mayor, Anne Hidalgo, said she wanted to mark the fans' "exemplary sportsmanship".
She said both sets of supporters had displayed "enthusiasm, jolliness and fair play".
The 'Grand Vermeil' is regarded as Paris's most prestigious honour and has been awarded to Nobel Prize in literature winner, Toni Morrison, Palestinian Authority President Mahmoud Abbas and jazz pianist Herbie Hancock.
Ms Hidalgo said the Northern Ireland and Republic of Ireland fans had participated in and contributed to the "festive atmosphere" that prevailed in Paris over the weeks.
She said they were "a model for all the supporters of the world".
No date has yet been set for the awarding of the medal.