Brexit: Continuation of support payments 'priority' for farmers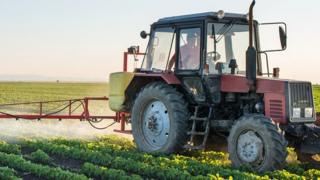 The priority for farmers is to ensure the continuation of support payments post Brexit, Northern Ireland's main farm union has been told.
The challenges facing agriculture were discussed at a meeting of the Ulster Farmers Union's executive committee on Wednesday night.
Those attending called for the union to lobby hard to ensure UK government recognition of the importance of the industry to the wider Northern Ireland economy.
The union was told it must try to ensure Northern Ireland agriculture was a high priority in any UK talks on redistribution of cash that would formerly have been sent to Brussels.
There was also a call for support money to go to the more productive farms.
The meeting heard that when access to funds from the European Investment Bank were lost it could be more difficult for farmers to finance expansion and improvement.
There were calls for processors and retailers to give guarantees about supporting local farmers.
Farmers were told that food production must continue to existing high standards as regulation would not disappear when the UK left the EU.
The meeting was told that cross-border relations with the Republic of Ireland would be important as the new situation unfolded.