Nama arrests: Ronnie Hanna and Frank Cushnahan named in Dáil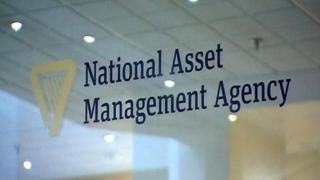 The Dáil (Irish parliament) has been told that a former senior Nama executive, Ronnie Hanna, was one of two men arrested earlier this month as part of a fraud investigation.
Two members of parliament said the other man who was arrested was Frank Cushnahan, a former Nama advisor.
The National Crime Agency (NCA) arrested two men in County Down and carried out searches.
The men were later released without charge.
Nama, Ireland's 'bad bank,' sold its Northern Ireland portfolio to investment fund Cerberus for £1.2bn in 2014.
The NCA is the lead agency in an investigation into allegations of fraud connected to the sale.
Mr Hanna, a former banker, joined Nama in 2010 and worked as its head of asset recovery.
He left the agency in October 2014.
A solicitor acting for Mr Hanna said he could not make any comment.
Mr Cushnahan is another former banker who sat on Nama's Northern Ireland advisory committee from May 2010 until November 2013.
He has consistently denied any wrongdoing in connection with the deal.