HIA: Kincora detective told to 'leave no stone unturned'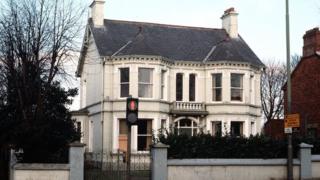 A retired RUC detective has told the Historical Institutional Abuse Inquiry that when he started looking into events at Kincora Boys Home, the then Chief Constable Sir Jack Hermon told him to leave "no stone unturned".
Former Detective Chief Superintendent George Caskey was giving evidence at the ongoing hearing in Banbridge.
He led the Kincora Inquiries from 1980-1985.
Six people were imprisoned for sexual abuse as a result of his team's work.
Joseph Mains, Raymond Semple and William McGrath were jailed for abusing boys at Kincora.
Statement
George Caskey's statement to the Inquiry said that before he was brought in to examine Kincora, the Police had had "many potential missed opportunities to detect the offences which my team uncovered."
There have been claims that some within the RUC knew about the abuse years before it was formally investigated.
Mr Caskey retired in 1996 with 39 years experience as a policeman and detective.
The PSNI has made all the 26 boxes of material relating to his investigations into Kincora available to the Inquiry.
Mr Caskey said he believed his team could not have done more to ensure the victims of Kincora were able to speak freely and fully.
His team later investigated the allegations made of cover ups and involvement of the intelligence services with the abuse in the home.
He said he was never put under pressure not to question anyone, be they "leading politicians, Orange Order members, churchmen, men engaged in homosexual activity in Belfast, men said to be interested in children."
No evidence
He told the inquiry that he did not find any evidence that an individual had tried to cover up what was happening in Kincora.
By cover up, he said he meant that they knew boys were being abused and did some act to try to hide it.
He also said he found no evidence of "prominent/establishment figures coming into Kincora to abuse boys or taking boys out for that purpose."
He concluded there was no evidence of some state-run operation to promote or facilitate sexual offences in Kincora for some intelligence gathering or other purpose.
He said this was born out by the evidence of the victims to whom he spoke.
He made the point that many allegations had been made by the former intelligence officer Colin Wallace, but that Mr Wallace had never really cooperated with his inquiry team.
Mr Wallace was in prison at the time for a crime for which he was later cleared and his conviction quashed.
Loose end
Mr Caskey did say he regretted one loose end.
This was his attempt to interview Ian Cameron, the Assistant Secretary Political based at Army HQ in Lisburn, about reports on Kincora his army intelligence staff had provided for him.
Asking for that interview, he told the inquiry, had caused "all manner of issue" and was discussed and debated by many senior figures in the UK military, intelligence and legal establishment.
Answers to 30 questions he wished to put to Mr Cameron were later provided in writing by someone else.
Mr Caskey felt they told him what he needed to know, but he still wishes he had been granted the interview.
The Inquiry continues.