Translink posts losses and fall in passenger journeys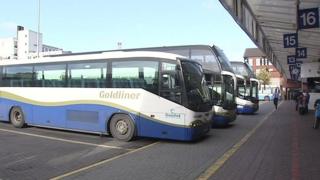 Northern Ireland transport provider Translink has posted an increased trading loss and reported a fall in passenger journeys on its buses and trains.
Pre-tax losses for 2015-16 rose by 25% to £10.5m.
The publicly-owned company said the loss would be funded from its cash reserves.
Its accounts reveal that its Ulsterbus operation was responsible for the overwhelming share of the loss.
Increases
Combined passenger journeys across Ulsterbus, Metro and Northern Ireland Railways services dipped from an 80 million high to 79 million in 2015-16.
Translink recently launched a strategy to grow numbers, but hinted at future fare increases.
It said its financial performance should be seen in the context of a £16m cut in its funding from the Department of Infrastructure.
It said it was committed to further efficiency measures.