11th night: Fears huge Chobham Street bonfire could return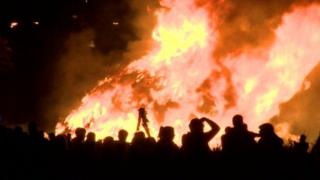 There are fears that a bonfire which forced 50 east Belfast families from their homes last year will be re-built.
Materials have been spotted near to the Chobham Street site, where the dangerous bonfire stood.
UUP's Jim Rodgers, told the BBC's Stephen Nolan programme that while the site had been moved, there were still safety concerns.
Last year, safety fears led to homes being evacuated and boarded up, at a cost of £10,000.
On Wednesday, the Belfast Telegraph reported that the 50ft bonfire was being rebuilt, despite promises there would be no repeat of last year.
The bonfire, which was built on council-owned land, collapsed after it was set on fire on the 11th night.
Mr Rodgers said some people who live nearby were distressed and afraid. He added there was a competitive culture between youngsters over who could build the biggest bonfires.