Pensioner poverty down but working age adults poorer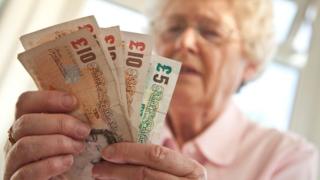 Poverty among pensioners in Northern Ireland has reached its lowest levels since the information started being recorded in its current form in 2002.
However the Northern Ireland Poverty Bulletin for 2014/15 also shows that relative poverty among working age adults is at its highest level.
The poverty bulletin is produced by the Department of Communities.
It used survey data from about 2,000 households.
Relative poverty
An individual is considered to be in relative poverty if they are living in a household with an income below 60% of UK median income.
The bulletin showed that an estimated 13% of pensioners are in relative poverty, after housing costs, which equates to about 39,000 people.
There has been a downward trend in relative poverty among pensioners since 2008 when the rate was estimated at 20%.
The data only covers those living in their own homes, not residents in nursing and retirement homes.
Relative poverty, after housing costs, among working age adults has been on an upward trend since 2008.
It has risen from 16% then to 23% in 2014/15 which equates to about 243,000 people.