Retlan Manufacturing: Toombridge-based firm sold to Chinese firm for undisclosed sum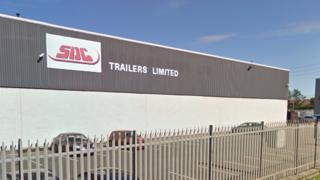 One of Northern Ireland's largest manufacturing firms has been sold to a Chinese company.
Retlan Manufacturing, which trades as SDC Trailers, has been bought by CIMC Vehicles for an undisclosed sum.
Retlan is based in Toomebridge, County Antrim, and also has a plant in Nottinghamshire.
The company employs 950 people and showed an annual profit of £8.5m in its last accounts.
It makes lorry trailers and its customers include major supermarkets.
The firm was majority-owned by JJ Donnelly and his family while chief executive Mark Cuskeran also held a significant stake.
CIMC Vehicles is part of a manufacturing group based in Shenzhen which has an annual turnover of about £8bn.
The existing management team of Retlan will remain in place.