EU referendum: Arlene Foster says Brexit 'may lower bill for corporation tax cut'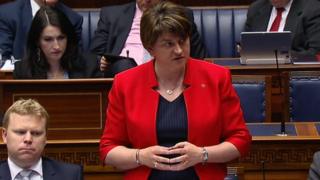 The first minister is to explore with the Treasury whether the leaving the EU could cut the cost of lowering corporation tax in Northern Ireland.
Arlene Foster said she thinks that might be a positive consequence of last week's referendum result.
But Deputy First Minister Martin McGuinness said he is concerned about what he describes as the Brexit "bombshell" Stormont has to deal with.
The UK voted to leave the EU by 52% to 48%.
However, the majority of voters in Northern Ireland (56%) said they wanted the UK to remain in the EU.
Stormont MLAs who backed the Remain and Leave sides in the referendum held an - at times - fractious debate on the consequences of the Brexit vote.
Pro-EU campaigners said they had won the campaign within Northern Ireland, but the Leave side reminded them that the question on the ballot paper referred to the whole of the UK.
Mr McGuinness said he believes Stormont faces major challenges ahead.
Mrs Foster said that, rather than navel gazing, she wanted to focus on the negotiations ahead.
She told MLAs that she wants to explore whether Brexit could lower the bill Stormont might face for cutting corporation tax.
She also argued that a withdrawal from the EU meant that, in the future, Brussels could not tell the Northern Ireland Executive that they need to introduce water charges.