Nama: Former senior Anglo-Irish official 'unaware' DUP had nominated him to committee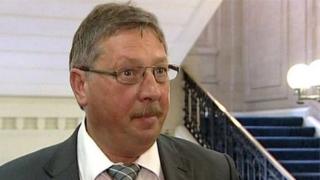 A former senior Anglo Irish Bank bank official has said he was "completely unaware" the DUP had nominated him to a committee advising Nama.
The name of Neil Adair, as a nominee of then finance minister Sammy Wilson, has emerged in paperwork newly disclosed to a Stormont committee.
The Finance Committee is due to discuss the paperwork on Wednesday.
Mr Adair's name was previously redacted from papers provided to the committee's inquiry into the Nama loan sale.
The Irish government selected another of Mr Wilson's nominees, Frank Cushnahan, in 2010.
Mr Adair, who later became a developer in Belfast, said had he been asked about "my name going forward for consideration I would have declined".
In a statement, he added he only found out in late 2015 that he had been nominated by Mr Wilson six years earlier.
At the time Mr Adair was nominated, records show he he was still registered as a shareholder of PBN Holdings, one of Nama's largest debtors in Northern Ireland.
It is unclear whether the identification of Mr Adair was one of the issues current minister Máirtín Ó Muilleoir referred to recently when he said he was considering releasing fresh material to the committee.
He told the assembly: "There has been an attempt to prevent me from releasing one piece of information."