EU Referendum: Calls for free movement of livestock across border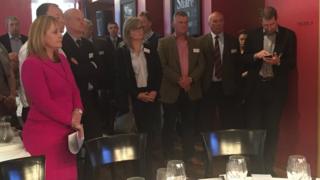 NI's agriculture minister has said she wants to see free movement of livestock and other agricultural goods across the Irish border as part of new trading arrangements with the EU.
320,000 lambs and 28,000 cattle went across the border for slaughter in plants in the Republic of Ireland last year.
Around 55,000 cattle came north for slaughter and as breeding stock.
Huge amounts of milk also cross the border in both directions every year.
Agriculture Minister Michelle McIlveen is to have series of meetings in London, Brussels and Dublin as attempts are made to chart a way forward for the agri-food industry following the UK's decision to leave the European Union.
The trade negotiations will be complex and carried out at UK/EU level, not between officials of the UK and Irish Republic.
Speaking at an event organised by the Livestock and Meat Commission, Ms McIlveen acknowledged that the referendum result had made many people "nervous" and that it would mean change for processors and farmers.
But, she said "just because we are out of the EU" does not mean we stopped trading with it.
She added that it was only right that "we take our time to agree our new relationship" .
'Bureaucracy'
"I want to ensure that we retain a strong relationship with Europe and in particular with our neighbour the Republic of Ireland".
"Recognising that our lamb and dairy farmers rely on processors in the Republic of Ireland and, likewise, farmers in the Republic of Ireland are equally reliant on the UK as a market for their produce, I want to see the free movement of livestock and agricultural produce between Northern Ireland and the Republic of Ireland."
Ms McIlveen said Northern Ireland would have a place at the talks where the UK's new trading arrangements with the EU would be thrashed out.
She said she also wanted to see a British farm subsidy system that did away with much of the "bureaucracy and red tape" associated with the Common Agricultural Policy - a commitment made by UK farm minister George Eustice during the referendum debate.