Euro 2016: Northern Ireland's football team come home to heroes' welcome
The Northern Ireland football team has returned home to a heroes' welcome in Belfast after their performance at the Euro 2016 finals.
They flew into Belfast International Airport where airport staff formed a "guard of honour".
An official homecoming event will take place in the Fanzone in Belfast's Titanic Quarter.
The Republic of Ireland team also came home to Dublin on Monday after losing in the same stage of the competition.
They were formally greeted in Dublin Airport by the Irish Minister for Sport, Shane Ross.
Both teams have been lauded for making it through to the last 16, reaching the knock-out stage of the finals.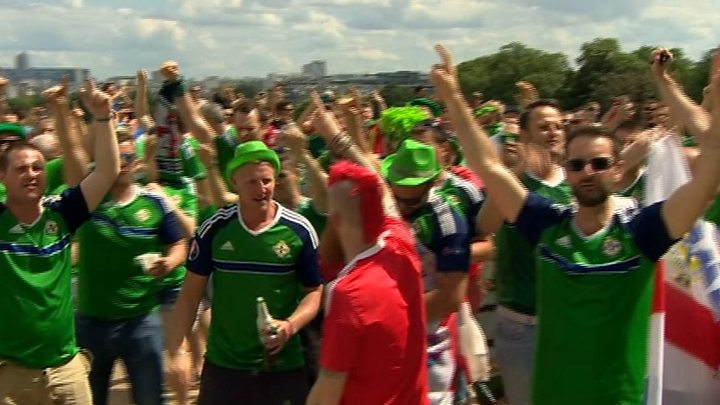 The Northern Ireland team was knocked out on Saturday after losing 1-0 to Wales.
However, the team beat Ukraine 2-0 on their way to qualifying for the last-16 in their first major tournament in 30 years.
Thousands of Northern Ireland supporters watched the team's matches from the Fanzone throughout the tournament.
The homecoming event is being hosted by the Department for Communities, Irish FA, Belsonic and Belfast City Council.