County Armagh Orange hall damaged in arson attack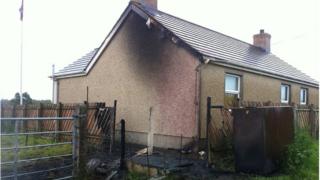 An Orange hall in County Armagh has been damaged in an arson attack.
An oil tank at Muckery Orange Hall, on the Eskey Road near Derrytrasna, was set on fire in the early hours of Sunday morning.
Police said the fire caused scorch damage to the hall's gable wall.
The Orange Order said it was the 10th reported attack on property owned by the order this year and fourth attack in the last month.
The order added that the hall was destroyed in a previous arson attack in 1997.
An Orange Order spokesperson described the arson as "utterly reprehensible".
"It is extremely fortunate that the consequences of their reckless behaviour was not much more serious."
DUP MLA Carla Lockhart described it as a "sickening attack".
"On speaking with members of the lodge, I am pleased to say that this attack will not deter them and they will ensure that the hall is restored."
UUP councillor Colin McCusker said "this type of intimidation will not succeed".
"This hall has been attacked before. It has been destroyed," he said,
"As we approach the centenary of the Battle of the Somme, it is vital that all right thinking people from right across the political spectrum ensure this activity has no support whatsoever."