Police shoot bull loose on M1 motorway near Lurgan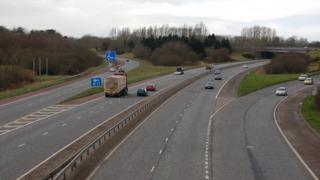 Police had to shoot a bull that was loose on the M1 motorway in County Armagh on Friday night.
The animal escaped from a trailer after the driver of the vehicle towing it crashed. He was not seriously injured.
Police were called to the scene, between the Lurgan junction and the M12 junction, at about 21:20 BST.
They managed to get the bull over to one side of the road, but could not get it back into the trailer as it was too agitated.
Police said the animal was then shot as it was a danger to motorists.
The road was reopened at about 23:40 BST.