Euro 2016: 'Only Northern Ireland fan in Aberystwyth' set to enter Dragons' den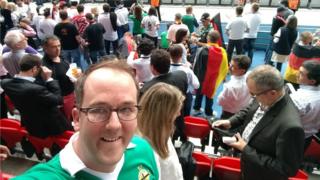 He could be the only Northern Ireland fan who'll find himself in the heart of proud Welsh-speaking country during the heat of a football battle on Saturday.
Graeme Neill will walk into the Ship and Castle pub in Aberystwyth to be faced with about 70 passionate Wales fans dressed from head to toe in red.
They'll all be watching Wales take on Northern Ireland at Euro 2016's last 16 stage, in arguably the biggest game for the two regions in decades.
But the Belfast man will show no fear.
"I'm pretty much going to be the only person in green and white watching the match in the town," he says.
"My retro 1982 shirt will be aired, and if I'm going there in a Northern Ireland shirt, I'm opening myself up to dog's abuse.
"But it's part of the fun of being a football fan."
Graeme has been living in the seaside town since February, and while he says it's "more inclined towards rugby than football" there seems to be no shortage of excitement surrounding the displays of Chris Coleman's side.
"Northern Ireland have been waiting 30 years to get into a major tournament, but Wales have been waiting since 1958.
"So, the anticipation in the town has been fantastic - the Welsh fans have really gone for it.
"We were watching Wales against Slovakia and the entire pub was singing the Welsh national anthem - it was a proper goosebumps moment."
Singing
Last week, Graeme got a taste of the tournament for himself when he was at the Parc de Princes - the same venue for the Wales clash - to see Northern Ireland's 0-1 defeat to Germany.
And he says it was an experience like no other.
"It was almost like a singing contest with a football match in the background.
"The noise coming from the Northern Ireland end was just unbelievable.
"The German fans would start singing and then the Northern Ireland fans would just drown them out."
Northern Ireland have, of course, suffered more than their fair share of barren years.
The low-point for Graeme was watching the team lose 0-1 to Canada at Windsor Park in 2005.
But the highs that manager Michael O'Neill has led the team to are making all of that suffering worth it.
"Northern Ireland are the underdogs' underdogs," Graeme says.
"With Gareth Bale and others on the opposition side, I'm hoping that Michael McGovern has as good a game as he did against Germany.
"I've seen Northern Ireland beat England, Spain, Sweden but they've never gotten this far because there's always been something that's let them down.
"This time they genuinely do have the belief."
Wales midfielder Joe Ledley was spotted doing a victory dance of sorts after the win against Russia, Graeme hopes it'll be Northern Ireland skipper Steven Davis doing the boogie after the final whistle in Paris.
So, how will Graeme celebrate if Northern Ireland do the the right result?
It'd be a respectful nod of commiseration and then I'd make my excuses and leave," he says.
"Maybe save the big celebrations for whenever I'm safely back in my own flat!"