Honey bees: Inspectors check hives in search of devastating disease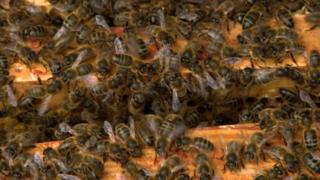 Inspectors are visiting the hives of honey bees in Northern Ireland to search for a devastating disease that turns their larvae to mush.
There has been a reported spike in incidence of American foul brood in the region.
It is a spore-borne bacterial disease that infects the young and wipes them out.
It was found in about 40 locations in Northern Ireland last year, marking roughly a four-fold increase on 2014.
Officials are working with beekeepers to step up hive inspections and increase reporting of anything that causes concern.
Thomas Williamson, a senior bee inspector with the Department of Agriculture, Environment and Rural Affairs, said the spores of American foul brood are highly contagious and can live for up to 40 years.
Bees are key pollinators for the horticulture industry, doing work worth about £1m a year.
The department and beekeepers are working together to combat the disease.
They are encouraging careful biosecurity, including increased hive inspections and only buying and selling healthy bees.
They also want more beekeepers to add their details to a voluntary register.
There are about 5,500 known hives in Northern Ireland.
The field test for American foul brood is confirmed with a laboratory test.
Entomologist Dr Archie Murchie oversees the tests at the Agri-Food and Biosciences Institute and said the disease is "nasty".
"The larvae ingest the spores, the spores proliferate in the gut, they penetrate through the gut wall into the body and turn the larvae to mush," he said.
"That larvae then generates billions of highly infective spores which are spread around the colony and possibly to other hives as well."
About 1,000 people keep bees in Northern Ireland and the numbers are growing.
Biosecurity and bee health are key components of a training course made available to new keepers.