NI Troubles inquests: Claire Sugden 'confident' over funding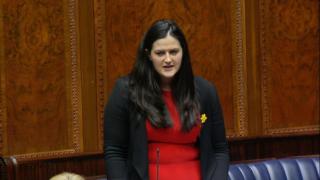 Justice Minister Claire Sugden has said she is confident progress can be made on securing funding for the courts to hear a lengthy backlog of Troubles-related inquests.
In February, the Lord Chief Justice Sir Declan Morgan said the outstanding legacy inquests could be dealt with in five years with the necessary funding.
Sir Declan proposed setting up a legacy inquest unit with its own staffing and resourcing to deal with Troubles related inquests.
In May, he said he was disappointed the executive had not yet bid for funding for the inquests.
The proposed bid for the money was not even discussed by the executive before the last Northern Ireland Assembly was dissolved.
Sir Declan said the incoming executive needed to agree a way forward "as a matter of urgency".
Former justice minister David Ford asked Ms Sugden where her confidence stemmed from, given that the matter did not make it on to the executive agenda in March.
No agreement from the executive meant no funding could be secured for the request.
In her first question time, Ms Sugden said dealing with the legacy inquests was a matter of urgency.
She said one reason she was confident about making progress was that, as justice minister, she enjoyed a level of support from the first and deputy first ministers in a way which was not possible for Mr Ford, given his role as a leader of another political party.