Seán Quinn: Identity of 'donors' paying legal bills must be disclosed, judge rules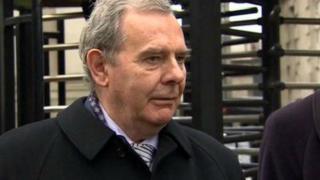 The identities of donors who have effectively been paying Seán Quinn's legal bills must be disclosed to a receiver.
The ruling was made by a High Court judge in Belfast.
The court heard that almost 1.7m euros (£1.3m) has been paid by Erne Trust to cover legal bills and other fees incurred by the Quinn family.
The trust was established in 2012 and has received funds from 33 individuals and companies.
The receiver for the assets of various Quinn family members suspects it is a "sham trust" which is a conduit for assets which have been concealed from him.
Declan Taite was appointed receiver in 2012 at the request of IBRC, formerly known as Anglo Irish Bank.
He told the court it was his job to identify, locate and collect assets.
Mr Taite added that the Quinns have "openly admitted" that they put property assets beyond the reach of IBRC and that those assets have "generated tens of millions of euros".
He said he is trying to "understand the provenance" of the money in the trust to determine that it does not originate with the Quinn family.
A barrister for the trust told the court that there are 33 genuine donors who have all supplied identification documents to a firm of solicitors.
'Hostile'
These documents have been shared with Mr Taite but have all been redacted.
The barrister for the trust said the donors wished to remain anonymous noting "some people are hostile to Mr Quinn".
A barrister for Mr Taite said it was "crucially important" that his client should see the unredacted documents.
The judge agreed that the unredacted material should be provided "in the interest of fairness and justice".
However, the identities of the donors will not be publicly disclosed.
Mr Quinn, from County Fermanagh, was once Ireland's richest man.
But the former billionaire lost control of his manufacturing businesses in 2011 following a disastrous bet on shares in Anglo Irish Bank.
The case continues.