Euro 2016: Paddy McNair takes shirt off his back for young NI fan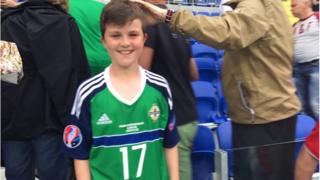 Twelve-year-old Northern Ireland fan Matthew Tunney did not think his day could get any better after he watched his team beat Ukraine 2-0 last Thursday.
That was until Manchester United player Paddy McNair spotted him in a sea of fans pleading for his jersey.
The Northern Ireland midfielder pointed to Matthew, took off his number 17 jersey, folded it and threw it to him.
Matthew shouted "I love you Paddy", as he caught the jersey.
Although from Northern Ireland, the family had moved to Manchester when Matthew was a baby and then Athens, before settling in France, where they have been living for the last three years.
As the tournament is hosted there, they took advantage and got their tickets early.
His parents had lifted Matthew from school early on Thursday and headed to the game.
Laura Tunney, Matthew's mother, said he was "absolutely thrilled."
"He was just so excited, he couldn't believe it.
"He wanted to wear it to school the next morning but we thought it would be safer not to.
"Instead, we printed a photo of him in it, so he could take it and show all his friends."
"He is a Manchester United fan as well, so it made it even more special to get Paddy's shirt" added Laura.