Sectarian graffiti daubed on walls in Springfield and Highfield areas of west Belfast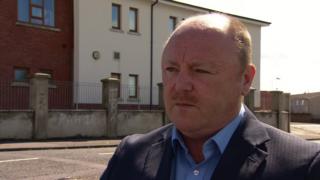 Sectarian graffiti has been daubed on the walls of a church and several homes in the Springfield and Highfield areas of west Belfast.
A residential home specialising in care for dementia patients also had slogans painted on it during Sunday night.
Police are treating the damage as a sectarian hate crime and said they would be examining CCTV footage.
DUP councillor Frank McCoubrey said people in the area were angry at what had happened.
"The most disappointing thing is that we have a nursing home that employs sections from both sides of our community and there are people who are resident within the home who come from both sides of the community," he said.
"Their families have arrived today and people going to work have seen.. this graffiti, that has been put outside their place of work."
West Belfast MP Paul Maskey condemned those responsible.
"They are not representative of the republican and nationalist community," he said.
"All these acts of mindless and sectarian vandalism need to stop immediately."
Insp Kelly Moore said: "We are treating this as a sectarian hate crime and extensive enquiries are already under way.
"Officers from both the neighbourhood policing team and the local policing team have been in the area this morning to help with the investigation and to offer reassurance to local people. We have also spoken with local representatives."
Police appealed for anyone who saw any suspicious activity in the area to contact them.