Larne: Paint thrown over war memorial in town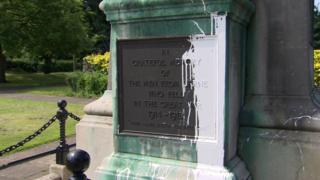 Paint has been thrown over a war memorial in County Antrim.
Police said the incident Inver Road happened some time between Friday night and Saturday morning at Inver Road in Larne.
Democratic Unionist Party MLA Gordon Lyons said he was "appalled" by the attack.
It was "an insult to the memories of all of those who fought and died for our country", he added.
"Council will begin a clean up operation as soon as the police are finished at the scene," he said.
"I trust that the memorial will be restored as soon as possible."
Sinn Féin MLA Oliver McMullan said it was a "shameful attack".
"All memorials should be respected and treated with the respect and dignity they deserve," he added.