Omagh shoppers have lucky escape after car ploughs through shop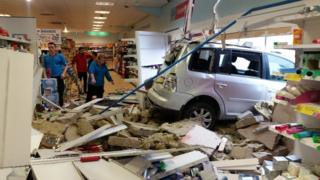 A man whose wife and son narrowly missed being injured when a car smashed through the wall of shop in County Tyrone has said it sounded "like a bomb".
No-one was in the car when it rolled down a hill and careered rear-end first into the side of Home Bargains.
It happened at about 17:00 BST on Thursday in Dromore Road Retail Park in Omagh.
Simon Burke was parked outside the shop at the time of the incident.
Carnage
His wife and 20-year-old son were inside.
"I heard a loud band and thought it was a bomb going off. At that point I knew something was wrong," he said.
" My son came running out of the shop to get me. When I went inside, it was carnage and my first instinct was to check for someone underneath the rubble or in the car but there was no-one in the vehicle."
Someone could have been killed
Mr Burke, from Omagh, said his wife and son had been shopping in an aisle close to where the car smashed into the wall.
"The size of the blocks that went flying from the wall, someone could have been killed. There was a woman inside with three young children - my wife, son and everyone in the store had a very lucky escape."
Police, fire and rescue and an ambulance were all at the scene on Thursday but no-one was injured.