NI health reform: Dr Michael McBride asks MLAs to play their part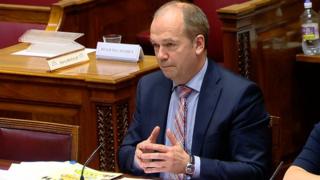 Northern Ireland's chief medical officer has appealed to politicians to play their part in the reform of the health and social care service.
It is the first time Dr Michael McBride has publicly appealed to MLAs not to politicise health which could impact on reform or the speed it is implemented.
He made the comments as he addressed Stormont's Health Committee.
Dr McBride told MLAs that there are now too many issues that simply can no longer be ducked.
"In my tenth year as chief medical officer I have been very up close and personal to some of those issues which sometimes can get political and it is naïve in the extreme to think that we can take politics out of health," he said.
"How could we, when it touches the lives of so many people that you represent - that elected you here to represent them?
"But the one thing that I would respectfully ask is that everyone has their part to play."
He was referring to a comment from the SDLP's Mark H Durkan, who said he did not think the chief medical officer was that naïve to think politics could be taken out of health completely.
Referring to the imminent publication of the Bengoa health review, which will spell out recommendations for reform of the health and social care service, Dr McBride said it was the duty of everyone to inform and explain any potential changes.
"It is incumbent on all of us that we play our full part ensuring informed, public and political debate," he said.
"This opportunity that we now have, the challenge that we are now facing, there are issues now that we cannot duck."
Dr McBride admitted that the Department of Health has not always been good at educating the public on the benefits of change and he appealed to the politicians to take part responsibly in the future debate.
He appeared before the committee alongside Northern Ireland's chief nursing officer, Charlotte McCardle.