Michael Bellew: Bail for south Armagh 'feud' accused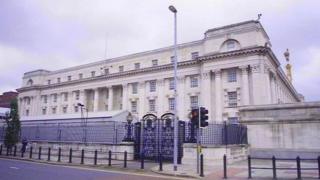 A woman and her brother were allegedly attacked with a shovel and wheel brace as part of an ongoing feud in south Armagh, the High Court has heard.
Prosecutors also claimed farmer Michael Bellew, 50, smashed one victim's car window, showering her four-year-old daughter in broken glass.
Details emerged as Mr Bellew, of Drummond Road in Crossmaglen, was granted bail.
However, he was banned from going near the scene of the alleged violence.
Attack
It was claimed that he was among three men who launched an attack at a building site in Cullyhanna on 10 June.
The accused is charged with three counts of causing grievous bodily harm with intent, criminal damage, common assault and possession of an offensive weapon.
The prosecution alleged that Mr Bellew used a shovel to strike a woman who had called with her brother before taking her child on to school.
She was also kicked and punched on the ground, sustaining a fractured right arm, the court heard.
According to Mr Steer, prosecuting, her car window was also broken by the shovel, covering the girl in glass.
Two other men who emerged from the jeep with a wheel brace and spirit level were also allegedly involved in attacks on the woman's brother and another man.
She was said to have filmed the incident on her mobile phone.
Arrested
The accused was arrested later that day after contacting police to claim he was the victim of an assault.
Although bail was not opposed, Mr Steer told the court: "The concerns are about keeping these feuding factions apart."
The defence said that a jury will ultimately have to decide who was the "aggressor".
Acknowledging the apparent ongoing feud, the judge agreed to grant bail for Mr Bellew to live at an address in Banbridge.
She ordered him to put up a £1,000 cash surety and prohibited any entry into Newry or south Armagh.