EU referendum: BBC hosts live televised debate in Belfast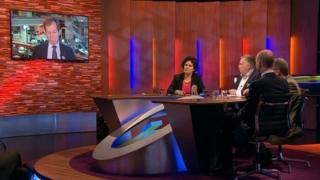 Voters in Northern Ireland have had their say in a EU referendum debate hosted by the BBC in Belfast.
The live televised debate examined what Northern Ireland voters think about EU membership.
The panel included DUP MP Sammy Wilson, SDLP MLA Claire Hanna, Conservative Party MEP Daniel Hannan and political aide and author Alastair Campbell.
The economy and borders were among the issues discussed on the programme which was presented by Stephen Nolan.
There were also questions on immigration and agriculture.
The referendum takes place on Thursday, 23 June.