Martin Neeson: Convicted killer wins court case over criminal record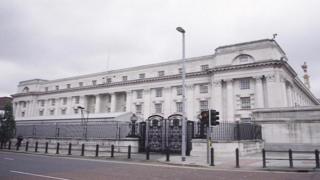 A High Court judge has quashed a decision to stop an ex-prisoner continuing to work as a groundskeeper.
Martin Neeson, who was convicted of murder and terror offences in the 1970s, was deemed unsuitable for his job after new security checks in 2013.
He declared his convictions in 1995.
The court ruled ex-First Minister Peter Robinson "breached the Ministerial Code" in 2007 when he did not continue with guidance on employing ex-convicts.
Lawyers for the 58-year-old ex-prisoner described the verdict as a "resounding exoneration" for him and others in his position.
Mr Neeson, from west Belfast, was 16 years old when he was jailed for murder in the mid-1970s.
He spent 11-and-a-half years in jail before being released on life licence in 1987 and has not been in trouble with the police since that date.
In 1995, he began working as a groundskeeper with a charity - Conservation Volunteers - and at the time he made his employer aware of his criminal record.
He continued in the role until 2013, when due to a funding change, the charity had to ask its employees to undergo new civil servant security checks.
Conservation Volunteers had to submit information about its staff, including any criminal records, to the Department of Finance and Personnel (DFP).
In December 2014, the vetting process resulted in a decision by DFP that Mr Neeson was unsuitable to continue in his existing job as a groundskeeper in Poleglass, on the outskirts of Belfast.
The ex-prisoner then began a judicial review challenge, asking the High Court in Belfast to rule on the department's alleged failure to continue with employment policy for staff with Troubles-related convictions.
His legal team argued that he was unlawfully and irrationally deemed unsuitable for a job he had carried out for nearly 20 years.
They also said that the move was based on an earlier decision taken by Mr Robinson, during his tenure as finance minister back in 2007, regarding guidance on recruiting ex-convicts.
That recruitment guidance was brought into operation on 1 May 2007, when Northern Ireland was under direct rule from Westminster.
The basic principal was that "any conviction for a conflict related offence that pre-dates the Good Friday Agreement (April 1998) should not be taken into account unless it is materially relevant to the employment being sought".
However, when devolution was restored later that year, Mr Robinson was elected to the role of finance minister and by September, he decided the guidance should not apply.
Mr Neeson's lawyers claimed that under Stormont rules, Mr Robinson should not have acted alone, but should have taken the issue to the Northern Ireland Executive because it was significant, controversial and cut across departments.
On Tuesday, the High Court judge agreed that Mr Robinson had breached Stormont's Ministerial Code by "failing to bring his decision to dis-apply the existing policy on the recruitment of persons with conflict related convictions to the Executive Committee".
The judge said that it would now be up to the department "to consider the matter afresh".
Mr Neeson is also now expected to secure damages for his loss of employment.