Richard Haass' claim that Brexit could 'trigger NI violence' is dismissed as 'nonsense'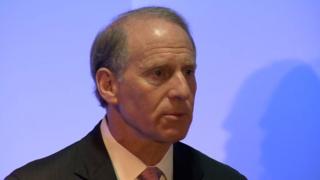 The former political talks chairman Richard Haass has claimed a vote by the UK to leave the European Union could "trigger violence" in Northern Ireland.
The US diplomat made the remarks on his Twitter account, saying a UK exit (Brexit) could also lead to political gridlock or "calls for partition".
His claims were dismissed as "nonsense" by Northern Ireland's first minister.
Arlene Foster said it was "disgraceful" that anyone would suggest that violence would be a consequence of a Brexit.
Mr Haass chaired multi-party negotiations about flags, parades and the legacy of the Troubles in Northern Ireland in 2013, but the talks broke up without agreement.
In his tweet, he said it was "unlikely that those in NI unable to agree on past could agree on future".
The UK's EU referendum takes place on 23 June.