Woodburn Forest: Leading environmentalist arrested at oil drill site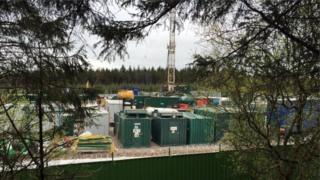 The director of a leading environmental group has been released on bail after being arrested at the site of a controversial oil drill.
James Orr, of Friends of the Earth, cannot return to the site for 28 days under the terms of his bail.
He was one of seven people arrested on Sunday evening at Woodburn Forest near Carrickfergus, County Antrim.
He was protesting against the exploratory oil drill.
'Non-violent'
Opponents say the drill could pollute the water supply to nearby reservoirs, but Northern Ireland Water says the project poses no risk.
Mr Orr said he and the others were "asserting a public right of way", along a path leading to the drill site, when they were arrested at about 17:00 BST.
He said the protest had been "peaceful and non-violent" with protesters "operating within the law".
Mr Orr said he was arrested after entering the fenced off access path via an opening.
He was detained for an alleged breach of the peace and taken to a Belfast police station, where he was held until the early hours of Monday morning.
Development rights
Oil company Infrastrata has leased the land from NI Water to carry out an exploratory oil drill at the site.
It believes there could be up to 25 million barrels of oil in the test area.
The exploratory drill is proceeding under what is known as permitted development rights.
That means it did not need planning permission.
If Infrastrata wants to commercially extract any oil there, it would have to apply for full planning permission.
The exploratory drill is time limited and is expected to finish by early July when the company will assess the results and decide what to do next.
'Breach of peace'
In a statement, the police confirmed a 26-year-old woman, and four men aged 57, 51, 25 and 25, will all appear at Belfast Magistrates Court on Friday 8 July charged with a number of offences, including breaching the peace and obstructing police.
A 28-year-old woman was also arrested on suspicion of breach of the peace and was later released pending a report to the PPS.
A 26-year-old man was arrested at the scene but was later released.
Chief Insp Stephen McCauley said: "I would like to remind everyone that the PSNI respect the rights of people to protest as long as it is within the parameters of the law.
"Anyone who chooses to participate in the protest should do so peacefully.
"Where offences are being committed or where actions may lead to a breach of the peace, police will intervene and address these issues as they occur."