Euro 2016: Flags fly on second west Belfast street for football sweepstake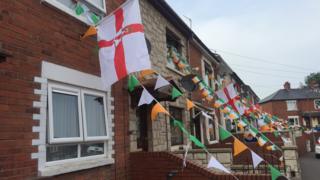 A second street in west Belfast has decided to fly their colours or more precisely the flags of the countries taking part in Euro 2016.
Residents in Whiterock Gardens have followed the lead of their neighbours in nearby Iris Drive.
"It all started last year when the street got together for different events," said Whiterock Gardens resident, Linda Sloan.
"We had fancy dress at Halloween, the Easter Bunny at Easter and now, this summer, we organised this Euro sweepstake.
"I got the Republic of Ireland - I don't think I'm in with a chance."
Last week it was revealed that residents in Iris Drive were proudly flying the flags of the participating countries ahead of the Euro 2016 football tournament.