Albert Armstrong: Life sentence for Samurai-sword double murderer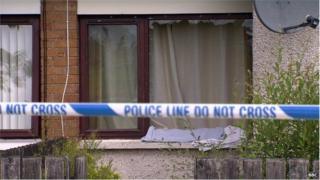 A Belfast man has been jailed for life for the murders of two men, one a senior UDA figure.
Albert Armstrong admitted killing Colin 'Bap' Lindsay, 47, and Stanley Wightman, 52 in an attack in July last year.
Both men were found in the living room of Mr Lindsay's Kirkiston Walk bungalow in the Belvoir estate.
They were said to have suffered severe wounds inflicted by a Samurai-type sword.
Mr Lindsay, a father of two, was pronounced dead at the scene and Mr Wightman died from his injuries two days after the attack.
Armstrong, of Mahee Close in Belfast's Belvior estate, spoke only three times at Belfast Crown Court on Thursday, once to confirm his identity, then to plead guilty as each charge of murder.
A defence lawyer said Armstrong had "always" accepted responsibility for the attacks.
He said he would ask for his 47-year-old client to be re-arraigned after having evaluated his mental health reports.