Missing divers found 'safe and well' off County Antrim coast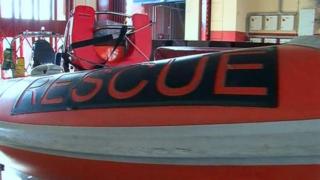 Three divers who went missing off the coast of County Antrim have been found "safe and well", the RNLI have said.
The divers were found by the Larne inshore lifeboat at about 18:50 BST near Whitehead.
The RNLI said the men, in their late 30s, have been taken back to shore.
The lifeboat charity said the alarm was raised by the coxswain of their boat when they had not surfaced 20 minutes after they were due to do so.
A major multi-agency search was coordinated by the coastguard and included Bangor RNLI, the Irish Coast Guard helicopter, four shipping vessels, two boats from Whitehead Yacht club and Larne, Portmuck and Bangor coastguard teams.
The weather conditions of calm seas with thick banks of rolling fog caused poor visibility and challenging search conditions.
'Challenging conditions'
Larne RNLI said the divers did not require medical assistance but were tired, hungry and thirsty.
Larne RNLI operations manager, Allan Dorman, said "conditions were very challenging" with visibility down to about fifteen metres.
"The divers did the right thing and stayed together," he said.
"We were fearful as time passed and our lifeboat crews were still searching the area with no sightings but thankfully the tide took them north and to nearby rocks.
"They were exhausted when they were finally located and recovered onto the inshore lifeboat.
"We are extremely thankful that the callout ended well with everyone accounted for and safely recovered. Our thanks to everyone involved in the search."