Belfast priest Fr Gary Donegan 'threatened by criminal gang'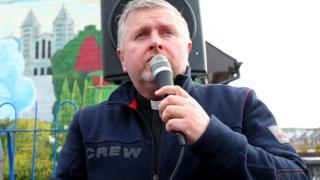 A prominent Catholic priest in north Belfast has said he has been threatened by a criminal gang.
Father Gary Donegan said he and other community workers were contacted by police, who told them of the threats.
The priest from the Holy Cross church in Ardoyne said the threats were from a "dissident republican background".
But he added that he would not be deterred from continuing his work, saying: "I've never cowered away from my work in any shape or form."
He added: "I won't be told who I can work with, who I can't work with."
Challenge
Fr Donegan said he was told by police that threats had been posted on social media.
"It's not the first time - I've received threats in the past," he said.
"But this is a different kettle of fish this time round."
He said those behind the threats could have issued them "maybe because I challenge their modus operandi, their ideology".
"I've done stuff for peace and reconciliation that they'll never do," he said.
"What threat do I bring to them?"
Risk
Sinn Féin MLA Gerry Kelly said the threats were "despicable and cowardly", and called for them to be "lifted immediately".
"This attempt to intimidate those working to improve the quality of life for all the people of north Belfast will end in failure," he added.
A spokesman for the Police Service of Northern Ireland said it did not discuss the security of individuals.
But he added: "We never ignore anything which may put an individual at risk."
Last month, Fr Donegan said he was aware of 25 who had been threatened with paramilitary violence.